Announcements
Passing the torch
January 17th, 2019 by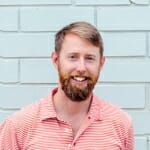 Luna, my co-founder, keeping an eye on things
Sixteen years after GuildQuality's launch, a decade after Mark Miles joined us to help build and lead the business, a bit more than a year following our sale to Providence Equity (wherein GuildQuality became part of the EverCommerce platform), and exactly one year after bringing Best Pick Reports and their team into our fold, Mark and I are pleased to be handing over the torch of leadership. In February, Paul Plaia will take the reins of our business.
I'm excited to have Paul join our team and look forward to watching him and all of the people at Best Pick Reports and GuildQuality continue the work we've had underway for the better part of two decades.
We've been planning this for some time. My wife likes to say, "Leave the party while you're still having fun," so in August, following a record period of growth for GuildQuality and the successful integration of Best Pick Reports into the EverCommerce family, Mark and I let our EverCommerce colleagues know that it was time for us to move on. Five months later, following a rigorous and selective recruiting process, we're pleased to have found in Paul an outstanding person to fill our seats.
Since very early in GuildQuality's history, I have joked that this is the biggest business I've ever worked for. That was the case when we were ten people. Then twenty. Then fifty. Then a hundred. And now—as part of EverCommerce—over five hundred. So much change! And through it all (launch, growth, recession, more growth, acquisition, integration, and, of course, all the babies—so many babies!) our mission has remained the same: To elevate this industry to a level commensurate with its importance.
As much as I love that mission, as much as I love our team, as much as I love our members, and as much as I love seeing them all develop and grow and prosper, I am a tinkerer at heart, and it's time for me to turn my attention to the small handful of entrepreneurial ventures that have sat neglected on my back burner.
It's also time for someone else to carry our torch, and I'm glad we were able to convince Paul to take on that challenge. He brings with him a wealth of relevant experience and a commitment to continuing to develop a values driven organization.
We have a healthy number of employees and Guildmembers who have been with us for over a decade. And we have a far greater number who've been with us less than a year. I'm going to miss my professional relationship with each and everyone, and I'll be grateful to you all for continuing our relationship as friends. Working with you to build this business has been among the most rewarding experiences of my life so far. Thank you.
Are your customers telling you the whole truth?
Let's find out
Get started