Life at GuildQuality
Six tips for bringing your dog into our new office
October 2nd, 2014 by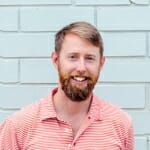 Here's the short note I shared with our team members on the eve of our move to a new HQ:
Humans of GuildQuality,
I am hearing a great deal of enthusiasm about next week's move away from our current landlord's reign of speciesism, and back into a home where our building owner has a more accepting and tolerant view of our canine friends. I, too, look forward to having good old Luna (GuildQuality's co-founder) back with me in our corporate abode.
Many people have never worked in an environment that welcomed dogs, so I thought it might be helpful to share my experiences.
Here are my Six tips for ensuring that your colleagues have a successful working relationship with your dog.
Use your judgment. If your dog is unpleasant, aggressive, smells bad, isn't yet housebroken, is loud at inappropriate times, etc., don't bring him or her to the office. The office is a place where congenial dogs are welcome, but it isn't a place where dogs learn to become congenial. Back in the day, one of our early employees brought their large young dog to the office all the time, and when it got excited it would sprint around the office urinating uncontrollably. That person no longer works here.
Meet other dogs outside. Dogs prefer to meet other dogs in "neutral territory." In our office, that will mean outside in the parking lot or on the patio. Something about the roof and walls makes some dogs a little uneasy, territorial, and sometimes a little crotchety. To avoid that, don't just walk Spot into the office if other dogs are already there. Get all the pups outside and have them sniff each other over before coming back in together.
Be a peace keeper. If your dog is usually pleasant but has a particularly bad relationship with someone else's dog, get together with that person and see if you can work it out. If you can't, then either don't bring your dog in, or coordinate with your dog's nemesis' to ensure that you're animals aren't in the office on the same days.
Be hyper-aware. Be vigilant about whether or not your dog might be annoying someone, and take ownership of the responsibility to keep them from doing so. Do not rely on your colleagues to let you know if there is a problem.
Clean up. Always clean up after your dog. I wouldn't feel compelled to even mention this, except that I see what happens to the break room every now and then. While our new space will have a dishwasher, it won't have a poop picker upper.
This isn't a kennel. If everyone brings a dog into the office, things will get difficult. Not only will it make it tough to get things done, but inevitably, our landlord will bring down the hammer and ruin the fun for everyone. They have the authority to ban all animals outright, and they will do so if we aren't mindful. So even if your dog is the quietest, tiniest, most innocuous creature in the world, don't bring him with you if too many other dogs are present. Also, be the good Samaritan who is the first to take yours home if too many other dogs show up.
All of these have been tips for the person bringing the dog in to the office. Here is one tip for people who work with other people's dogs:
Speak up and be direct. Don't hesitate to let your colleague know that her dog just peed in your lunch. Be friendly and direct, and ask them to do something about it. You work with good people, so they will take ownership of that responsibility. If problems become chronic and your colleague doesn't resolve them, approach your colleague with other co-workers and together re-emphasize the concern.
As I reflect on these tips, I think they probably apply just as well to children, spouses, and friends that come into the office. I hope they're helpful! If you have your own tips, please share them in the comments. I look forward to meeting your pooch!
Are your customers telling you the whole truth?
Let's find out
Get started